Palmy's Plastic Pollution Strategy: Workshop outcomes
To help develop a community-based "Plastic Pollution Strategy" for Palmerston North City (and eventually the entire Manawatu region), participants in the Palmy Plastic Pollution Challenge (PPPC) and members of the Palmerston North general public were invited to participate in a 22 June 2019 workshop held at Te Manawa Museum.
This report synthesises some of the key initiatives and ideas recommended by workshop participants:
A neighbourhood pilot project to enhance care and connection to Palmerston North's urban waterways;
Action on plastic food packaging;
Suggestions for Palmerston North City Council (PNCC) waste and recycling infrastructure and services;
Ideas for education and awareness raising around plastic pollution to promote behaviour change among Palmerston North residents;
Schools-based initiatives and youth engagement;
Advocacy for changes in central government waste policies and programmes;
Clean-up initiatives, including actions suitable for annual programs such as World Cleanup Day in September.
A 2-page summary report of participant ideas can be viewed here, while you can access the full report and appendices via the links provided on this page.
The Palmy Plastics Pollution Challenge team are grateful for the work of Sharon Stevens, Slow Farm Ltd in facilitiating the workshop and preparing these reports.
Read the 2020-21 Plastic Pollution Challenge Project Report.
Published in October 2021 this documents all history, strategies, workshops, events and stream sampling data linked to the project for its duration and celebrates the people, and organisations that made it happen.
Click here to read the full report.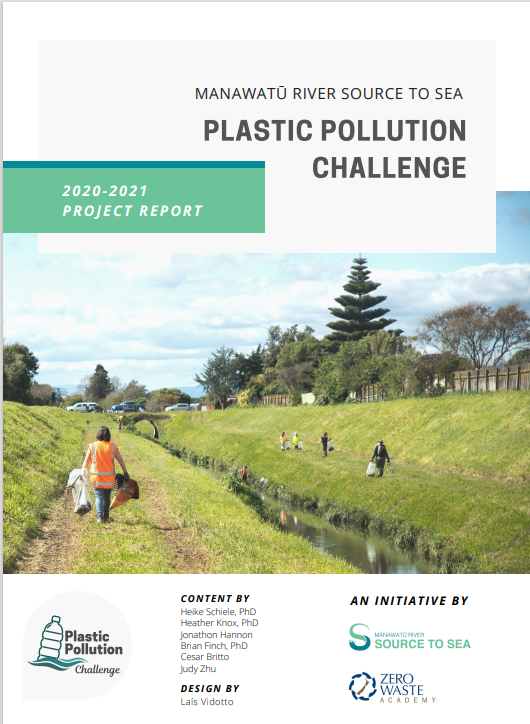 Turitea and Kahuterawa Research Report
In November 2019, a Massey student Arsenia Ximenez De Cruz chose seven random sampling sites along the Turitea and Kahuterawa streams, which are on the Massey side of Palmerston North to explore litter density in a more rural setting, using the PPC methodology.
Read the report from this research here.
Read the Palmy's Plastic Pollution Challenge (PPPC) 2019 Report here
Palmy's Plastic Pollution Strategy Workshop, 22 June 2019